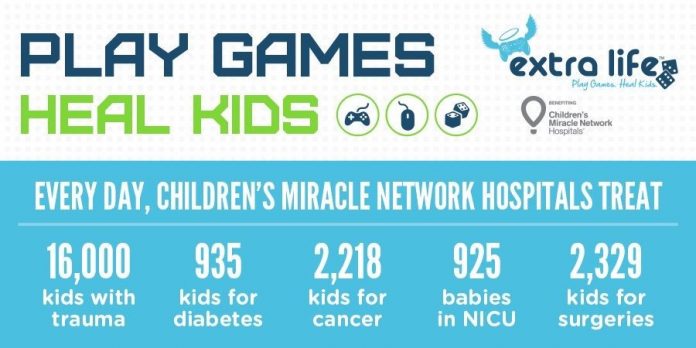 Complexity Gaming, a gaming agency, has entered into a collaboration with Extra Life, a peer-to-peer fundraising network of Children's Miracle Network Hospitals (CMN Hospitals). This partnership enables Complexity players and streamers to provide support to fundraising efforts for CMN Hospitals across North America through live streams, local hospital visits and more.
A number of players and streamers from Complexity will take part in a party around Extra Life on November 2, helping to raise funds and awareness about the humanitarian needs of children's hospitals. Not only will players and streamers raise money for Extra Life throughout the day, they will also offer prizes and giveaways to fans and viewers.
Beyond the kickoff event, for fans to contribute to Extra Life, both players and streamers will have a continuous integration of Twitch extensions on their channels. They will receive flow achievements and bonuses when they raise money, which will show on their channels.
Cam Kelly, the firm's CMO, explained: "Contributing to meaningful causes is one of the fundamental pillars of Complexity. "Through our partnership with Extra Life, we are able to leverage our global reach and visibility to positively impact Children's Miracle Network Hospitals across the country, including our local CMN Hospital, Children's Health in Dallas, Texas."
Complexity players and influencers also visit and tour their local CMN hospital on a regular basis. They will connect and play video games with kids during their visits as well as create social content to highlight the importance of supporting causes like Extra Life.
John Lauck, President and CEO of Children's Miracle Network Hospitals added: "We're thrilled to be teaming up with Complexity Gaming to raise funds and awareness for children's hospitals through gaming.
"More than 10 million kids enter a Children's Miracle Network Hospital each year — funds raised through Extra Life supply critical treatments and healthcare services, paediatric medical equipment and charitable care. Thank you for your support and can't wait to tune into Complexity's charity streams benefiting CMN Hospitals."