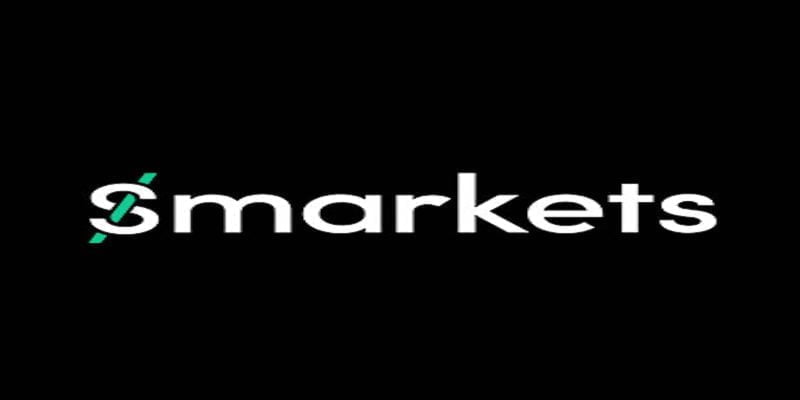 Smarkets aren't your average bookmaker and have a unique selling point as an exchange betting service.
Smarkets, for those who don't know, is a betting exchange that allows customers to bet on the outcome of events against one another, with the company, in this case, Smarkets, being the middle man that holds the money and takes a 2% commission rate on winning bets only. Customers can either buy (back) or sell (lay) the outcome, with those who choose the latter being responsible for paying out a more significant amount if the former's bet wins. This Smarkets review will assess the strength of their betting exchange, ranging from their available markets that you can bet on to their customer support staff.
Pros & Cons
Welcome Offer & Bonus
Most online bookmakers will offer their new customers the chance to claim a free bets offer upon creating their account, and Smarkets have one of its own. However, as they are not a conventional sportsbook, it would not be fair to compare them to one regarding this aspect of their site. A more traditional bookmaker would offer something like "Bet £10, Get £20", for example, but Smarkets' new customer bonus is of a different structure. When you open your account with Smarkets and make a deposit of £20 or greater via bank transfer or a debit or credit card, you will receive a refund on your first £10 losses.
This is a unique promotion that you won't see all too often but fits more in line with what we would expect to see from a betting exchange platform. This £10 bonus refund will give you extra security to test the waters more if you are unfamiliar with the concept of a peer betting exchange and test different betting strategies safe in the knowledge that you have a safety blanket. The welcome offer applies to both back and lays stakes, giving you the best of both worlds regarding your betting options.
Key Information
🔴 Site Name
Smarkets
💋 Owner
Smarkets (Malta) Limited
📊 Markets
Sports betting, Casino
😘 Welcome Offer
Trade with 0% commission for 60 days and get a £10 cash refund
💳 Minimum Deposit
£10
🔥 License
View
📅 Founded
2005
📪 Address

Level 7
The Hedge
Triq Ir-Rampa Ta' San Giljan
ST JULIANS
STJ1 062
Malta

🔗 Website
www.smarkets.com
☎ Phone Number

+44 207 617 7413 

📧 Email

support@smarkets.com

😍 Sister Sites
💰 Deposit Methods
PayPal, Trustly, Skrill
Joining Instructions For Smarkets
You must create an account with the Smarkets betting exchange to claim this welcome offer. The registration process is relatively quick and straightforward, with players being required to enter personal details such as their email address, password, household address, name, date of birth and gender. Only players aged 18 or over will be eligible to create an account with Smarkets, and this previously mentioned welcome offer can only be used once per customer. Once your account has been verified, you can begin exploring their wide range of sports.
Markets & Betting Options

All of the most popular markets available within a traditional sportsbook are also available to bet on at Smarkets. The market coverage and market depth are robust, although it will take another customer matching your bet for you to have a wager. Regarding betting options, it is pretty black and white; you will never be betting against the bookmaker. They are strictly the middleman and hold the money whilst taking a 2% commission fee from the winning bet. For example, if you back a market and win £100, you will receive £98 after Smarkets take their flat-rate commission.
This is an industry-low commission fee within the betting exchange industry and is a small price for their platform. The betting options are pretty limited compared to the more traditional online sportsbooks, as you can only place single bets instead of multiple and accumulator bets that are usually on offer. The complete list of sports and events that you can bet on at Smarkets are Football, Horse racing bets, News and Politics, Tennis, American Football, Basketball, Boxing, Chess, Cricket, Current Affairs, Darts, Esports, Golf betting, Greyhound Racing, Handball, Ice Hockey, MMA, Motorsports, Rugby League, Rugby Union, Snooker, Table Tennis, TV and Specials and Volleyball.
Live Betting & In-Play

In-play betting has become extremely popular recently, with technological advances allowing us to bet on live events. In-play betting is the art of placing wagers on events after they have already begun and is a regular feature seen in sportsbooks. Smarkets also offer in-play markets for their customers to browse. However, it will naturally come with a more significant delay than usual as you wait for another customer to match your bet. Live betting can provide excellent opportunities for those who participate, as it can offer more value than betting pre-game, although this can go in the opposite direction. At the time of writing, in-play markets were available within Football betting, Horse Racing, Tennis, Basketball, Cricket, Darts, Esports, Snooker and Volleyball.
Ongoing Promotions & Offers
Due to the unique nature of the Smarkets and overall betting platforms that operate under the exchange bracket, it is difficult for them to give many traditional offers to existing customers, as is the case at other sportsbooks. At the time of writing, there were no ongoing promotions and offers for existing customers to claim, although they have previously run offers at different times. For example, in June, they ran a 0% Commission Offer for selected Smarkets customers, which is generally as far as they can go, given that you can only place single bets.
VIP Promotion & Player Rewards
Many online operators offer their customers the opportunity to enrol on a VIP scheme, which allows the most active and loyal players to be rewarded for their customs. Most of the time, these types of promotions will be on an invite-only basis that requires players to initially hit a threshold of play and activity before receiving an invitation to join. However, this is not currently available to those who create an account with Smarkets.
Casino, Slots & Bingo At Smarkets
The online gambling industry has plenty of UK sports betting sites that operate online casinos for their customers. This can be a considerable advantage as it allows account holders to access both platforms from the same account, giving them a more comprehensive range of betting options, including major sports markets and some of the most popular casino games. If you are looking for a sports betting platform that also offers casino betting, you are unfortunately in the wrong place, as there are no casinos, slots or bingo games available at Smarkets.
Play on Mobile & Smarkets App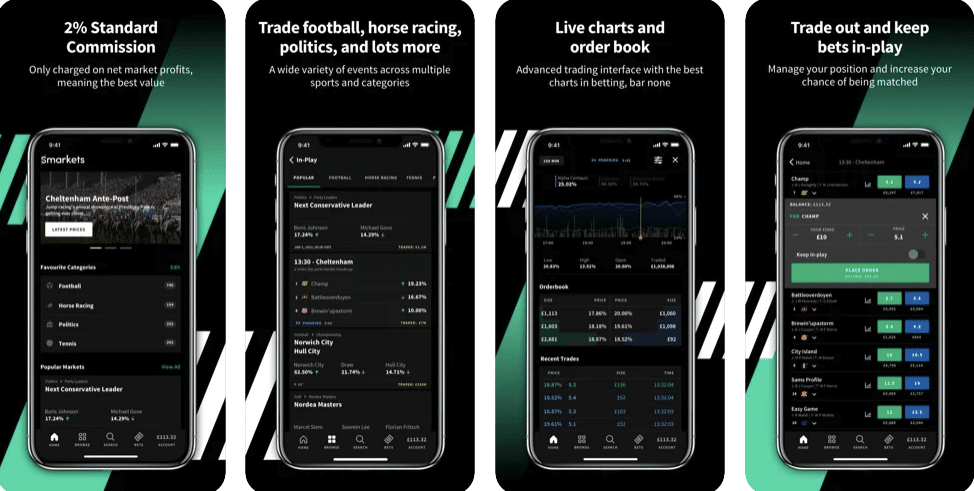 If you are one of the many sports gamblers out there making the switch to placing wagers via your phone, then you will be glad to know that a Smarkets mobile betting app is free to download onto your device. It is an excellent, functional app that is well-designed and presented, making it easy to find the combination of markets you are looking for. iOS users agree with the sentiment, giving the Smarkets mobile application an impressive rating of 4.8 out of 5 stars from more than 4,500 reviews.
To use the app, you need to be an account holder with Smarkets, using your previously created login details to sign in and begin betting. Alternatively, you can access the Smarkets mobile site via your device's web browser, structured more like the desktop version but with an adapted user interface. This is also an excellent platform, but for the best possible mobile experience, we recommend downloading the app, one of the finest betting exchange apps we have seen.
Payment Methods & Depositing
A range of online betting payment methods is available to Smarkets customers, making it a simple process for adding funds to your account. They have a range of deposit options: Instant Bank Transfer, PayPal, Trustly, Visa Debit, Skrill, Neteller, Visa Credit Card, Mastercard/Eurocard, Maestro and Bank Transfer. Paypal betting sites have become increasingly popular for UK players. There are more than enough deposit methods to satisfy customers and give them enough opportunities to deposit. However, you should be aware that you can't claim the welcome offer if you aren't using a bank transfer, debit, or credit card to make your initial deposit of £20 or greater. That means e-wallets such as Skrill and Neteller can't be used for the promotion. A minimum deposit of £10 is required on your account. At the same time, you can also ensure that you are partaking in responsible gambling by placing deposit limits on your account.
Is Smarkets Trustworthy?
You can tell if a gambling operator is trustworthy by the licenses they have been awarded. Smarkets are licensed to operate in the United Kingdom by the United Kingdom Gambling Commission, which is responsible for regulating gambling and supervising gaming law in Great Britain. The stated aims of the commission are to keep crime out of gambling and protect the vulnerable, and they are one of the most respected authorities within the gambling world. As a general rule of thumb, if you are unsure about a bookmaker's trustworthiness, check out the UKGC website for its complete list of licensed sites.
Customer Support
If there is an issue with your account, you should contact the Smarkets customer support team. They are available 24/7 across various channels, including via telephone at +44 207 617 7413 (customers only, 09:00-00:00) and via email at support@smarkets.com. For the quickest possible response to your query, you should use their live chat function, which is available at every moment of the day. We found this to be the most efficient option of all the available services, making it an excellent customer service provision at Smarkets.
Language Support
Smarkets offer flexibility to their customers regarding the languages they can have featured on screen. They have four languages available on their site: English, American English, Portuguese and Swedish. These languages can also be used to access their customer service options, making it easier for customers of those native languages to resolve their issues.
Smarkets Summary
If you are interested in participating in exchange betting, you should sign up at Smarkets, one of the industry's finest betting exchanges. They have one of the lowest commission rates we have seen from competing sites and have a wide variety of markets for customers to browse and bet against each other on. From a mobile bettor's perspective, they are also an incredibly viable option due to the quality of their mobile app. New customers that sign up today can get a £10 refund on their first losses with Smarkets, giving you an extra level of cover if you are not particularly familiar with the concept of exchange betting.
Frequently Asked Questions
What are the charts at the top of each market?
The market charts can be used to:
Track the historic price of the executions on any contract within any market. The chart will default to the top 5 contracts in the market, but this can be changed by clicking the icon in the top right of the chart.
See the volume of bets executed on each contract over time.
The display of the chart can be toggled on and off by clicking on the bar chart icon to the right of the market name.
What is lay betting on an exchange?
Everything you need to know about lay betting on the Smarkets betting exchange.
Lay betting is an option on a betting exchange which allows you to take the same position as a traditional bookmaker, by offering odds. Find out what lay betting is on an exchange, and how to place a lay bet.