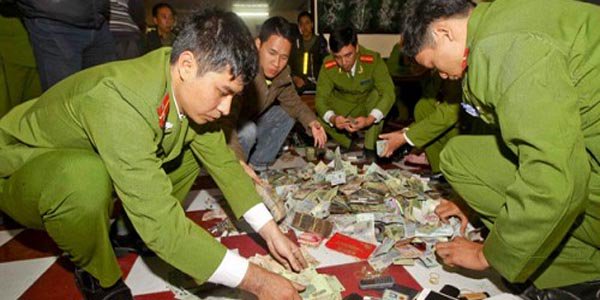 This week, with the dismantling of an illegal operation located in Ho Chi Minh City (HCMC), Vietnam's never-ending war on illegal online gambling began another chapter.
Vietnamese media reported on Thursday that nearly 100 Ministry of Public Security agents had carried out raids at 10 different locations across HCMC earlier this week, arresting 11 people suspected of participating in an illegal gambling activity connected to the Bóng88 and SBObet gambling sites.
Those under investigation include one Nguyen Hoang Long, who was suspected by police as the gambling operation's ringleader. Long allegedly opened a number of front companies in late-2017 to manage the financial transactions of the group, the amount of which police estimated from VND3 t (US$ 130 m) to VND10 t.
Long reportedly supervised an activity involving "dozens" of officers, sub-agents, engineers, and police pretending to be hot on the trail of several potential involvement individuals. Long allegedly took a 70 percent share in the betting profits of the operation, while the remainder were claimed by an unknown partner.
Among the sites raided this week were a local bank from which police confiscated VND4b in cash linked to Long, while raids on other sites resulted in the seizure of luxury cars and electronic gambling devices.
Bóng88, authorszed by the First Cagayan Leisure & Resort Corporation of the Philippines, is a popular site for Vietnamese gamblers, and this page contains numerous articles detailing the efforts of local authorities to arrest site and Vietnamese clientele financial intermediaries.
SBObet is a global gambling company authorised in many jurisdictions, including the Isle of Man Gambling Supervision Commission and the Philippine Amusement and Gaming Corporation.
Vietnam has a legal sports betting option available to its residents, but strict daily spending restrictions, an equally limited range of wagering sports, and the lack of options for online or mobile betting have prevented this legal platform from gaining a lot of traction with local punters.