Sky Bet Introduces EFL Rewards App For Fans
Published: 25th September 2019
Author: Joe Kizlauskas
Last Updated: 25th September 2019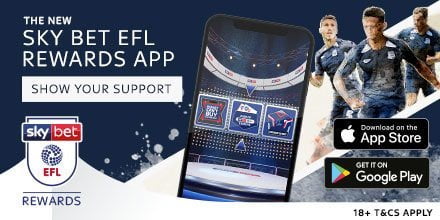 As the title sponsor of the English Football League (EFL), Sky Bet introduced its patented' EFL Rewards' app to engage football fans and the teams they pursue.
Made accessible through the Apple App Store and Google Play, Sky Bet's EFL Rewards provides loyal supporters the chance to receive a variety of awards, including EFL matchday tickets and signed merchandise.
The app benefits supporters by capturing social engagement with EFL clubs, such as' documenting your dedication,  unlocking club achievements and checking-in-at-games.'
In addition, the EFL Rewards includes an online Match Centre containing match data, match-day line-ups, outcomes and league rankings.
On it's launch Michael Afflick, Brand, Creative & Sponsorship Director at Sky Betting and Gaming, said:
At Sky Bet, we know that EFL fans are some of the most passionate fans in the world. As title sponsors, we wanted to reward these fans, simply for being fans.
"The launch of the Sky Bet EFL Rewards app allows us to do just that, rewarding real fans with real prizes for showing their support for their team."
Sky Bet documents that since the beginning of the 2019/2020 football season, more than 200 fans across the EFL branches have been awarded for joining the Sky Bet EFL.
EFL's Chief Commercial Officer Ben Wright said: "The Sky Bet Rewards App is a fantastic opportunity for supporters of all EFL clubs to get the chance to win prizes when they go to the match.
"The app is an innovative way to directly reward fans when they go through the turnstiles, by giving away 12,000 match tickets and 500 signed shirts over the course of this season.
"Fans know they play a vital role in the match-day experience and this app now means they can get even closer to the action than ever before."