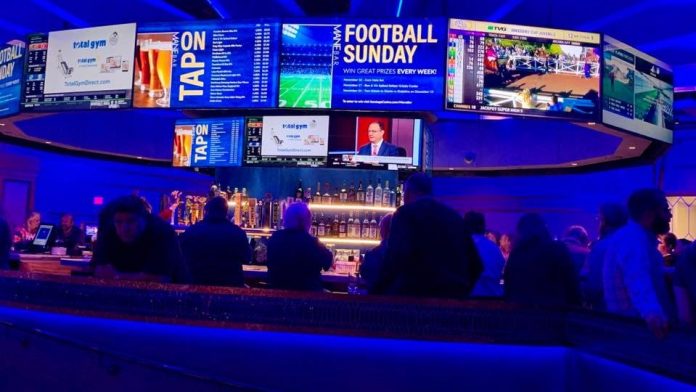 Saratoga Casino Hotel opened its new sports bar last Friday in Saratoga Springs, New York State. The Mane Bar is just inside the casino entrance and features 24 360-degree digital television screens for watching sporting events surrounding the bar on two floors. With several promotional giveaways and drink specials throughout the weekend, the casino celebrated the grand opening of the lounge.
Guests will be able to wager on horse racing from tracks across the country in addition to watching sporting events. The bar is lit by a high-tech, adaptive lighting system that allows the casino to alter the bar's overall ambience by changing the choices for lighting.
According to a news release, it also offers 20 beer taps featuring a variety of local craft selections; and a la carte menu featuring high-end bar fare, including lobster sliders, wagyu steak sandwiches and Saratoga truffle parmesan chips.
The opening bar completes the first phase of a $8 million renovation completed on October 24 that also included the new VIP lounge and high-limit area. New lighting, carpeting, upgraded casino bathrooms and the introduction of self-service drink centres are included in the next phase of development. In the next several months, additional phases of the project will be completed with the full redesign expected to be completed by the second quarter of 2020.
Once the entire redesign of the casino floor has been completed, it will suit the bar's new look and high-limit slot area and fit more closely with the futuristic architecture and design featured in the casino hotel.
"We're excited for our guests to see what's been going on behind the walls," said Alex Tucker, General Manager of Saratoga Casino Hotel. "With the opening of the bar and the high limit area our guests are now able to get a sense of what to expect the entire property to look like once the project is complete."