Innovative To Debut Spectral Recycler And ICU Age Verification At BEGE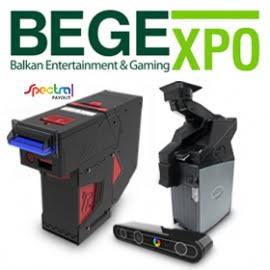 Innovative technology will demonstrate its latest innovations at the Inter Expo Center in Sofia, Bulgaria, on 20-21 November 2019 at BEGE (Balkan Entertainment and Gaming Expo), including age verification and spectral technology.
Sasha Kragulj, Business Development Manager said: "Our presence in the region continues to expand and we have been showcasing our products at various events around Eastern Europe over the past year.
"We are eager to show BEGE visitors the new Spectral Payout. This unit is ideal for high volume applications requiring secure, multi-denomination recycling. It offers 80 note true mixed denomination recycling and large storage capacity for all denominations eliminating coin starvation & reducing the coin float level required to keep machines operational.
"Utilising the NV200 Spectral validator, this recycler boasts state-of-the-art Spectral technology, offering the highest level of security with 100% note image capture and stained note detection."
Kragulj added: "Installing this unit in conjunction with the SMART Coin System (SCS), a bulk coin validator, mixed coin hopper and recycler in one, results in fast, multi-denomination recycling for both notes and coins. The SCS has a market leading coin hopper capacity with payout speeds of up to 12 coins per second to eliminating coin starvation, the need for multiple hoppers to improve cashflow."
Innovative Technology is also planning to introduce the Bulgarian gaming industry to its new age verification tool (ICU). "ICU automates the age verification process by using clever machine learning algorithms to help combat underage gambling and assist premises and Operators comply with gambling restrictions and regulations.
"Boasting a high level of accuracy with a proven 96% success rate in detecting under 18's, it provides a seamless service for the end-user as there is no need for customers to pre-register," Kragulj said.
Kragulj concluded by commenting on their presence at BEGE: "Eastern Europe is an important region for us, so we are looking forward to highlighting our innovative product range to BEGE visitors. Come along and see us on stand 3.9 to find out more."