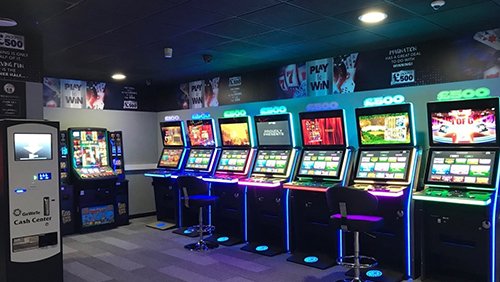 Gauselmann UK celebrates what group business development director Ryan Collinge defined as "a fantastic and positive start" to his partnership with Roadchef after the rollout and deployment of more than 500 Cat C and B3 machines across 30 motorway service areas.
The rollout, accomplished over a span of six weeks, also included a refurbishment of Roadchef adult gaming centers including upgrades to CCTV and tracking capabilities, signage improvements, and overall understanding of social responsibility.
Announcing the agreement, Collinge said: "In terms of the product mix it's not simply a question of replicating what players would find within a high street AGC. Because there are fewer machine positions and in most cases only four B3s, it is absolutely essential to have the very best performing product, which we have achieved with games including Eye of Horus and Fishing Frenzy as both Cat C and B3 content, the latter housed in the latest Aurora Noir cabinets.
"We have taken the decision to increase the density of the digital Cat C offering, which has had an immediate and positive impact on player experience. Being part of the Gauselmann Group has also meant that we have been able to deliver a complete and integrated solution courtesy of the GeWeTe and the Mars platform which is the first time that the brand has been able to provide a complete TITO solution across an MSA estate."
Roadchef's reaction was both optimistic and favourable as Roadchef CFO James Muirhead said: "Our decision to select Blueprint was based on the strength of the relationship that exists between both of our teams, the trust we have in Blueprint being able to deliver on their promises, the quality of the content and the hardware road map for 2020 and beyond. The customer experience that we offer is very important to the business and I think the quality of the playing environment and the quality of service shown by the Blueprint team from concept to delivery has been exceptional."
Tracy Baitup, the commercial income director of Roadchef, who was heavily involved in the renovation of the sites that accompanied the introduction of the new Blueprint equipment, added: "This was a massive logistical undertaking, which was carried out successfully by the Blueprint, Merkur and Regal teams thanks to precise, almost military style planning. The challenge was to enhance the design and retail credentials of each venue but at the same time minimise the collective machine downtime. It's an extremely delicate balance to get right but I am delighted to confirm the team excelled itself."