Read through our review of this vibrant EmotiCoins slot game from Microgaming!
Everybody is familiar with emojis. From the simple smiley to the classic "laughing so hard" and "I'm crying face", these little yellow guys have helped people convey an array of emotions through text.
With the release of The Emoji Movie, it was only expected that other industries would notice and capitalise on the great marketability of these yellow faces. This is where Microgaming steps in.
EmotiCoins is one of the first Emoji themed slots to hit the market, not to confuse Emoji planet. This slot is silly, classy and filled with casino bonuses and traditional themes that would leave anyone with a smiley face after a few spins. The gameplay is simple and speaks a now universal language- Emojis! Read on for a review of the features and bonuses of this video slot.
About EmotiCoins Slot Game
EmotiCoins video slot is a classic 5×3 reel slot machine, and there are 30 fixed paylines in the base game. While this slot game was released simultaneously as NetEnt's Emoji Planet, the similarities between the two slots end in their themes.
EmotiCoins, while exploring a new and exciting theme in the world of virtual casino games, does not do anything new. While of good quality, the graphics are not particularly groundbreaking, and besides the emoji characters, the rest of the symbols are a normal set of cards from Ace to 10. The slot background is a simple block of colour with faint patterns, and the symbol designs are nothing new.
Despite this, EmotiCoins does offer a fun and enjoyable gaming experience. The game involves features such as sticky wild symbols, scatter symbols, free spins and many more.
How to Play EmotiCoins Slot Online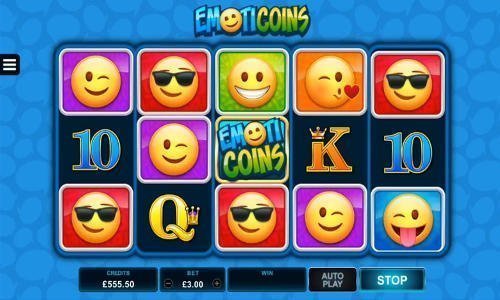 With the following steps, any player should access EmotiCoins slots and get the hang of the slot machine in no time.
If you have an account at any online casinos, log into your account. If not, find an online casino that provides the slot game and create an account.
Select "EmotiCoins Slot".
The first and most important thing is to go to the game settings to set your stakes and view the paytable.
The "Coin Size" button should be available to allow you to select your bet total per spin. The maximum coin size is 0.30, and the maximum number of coins allowed per bet is 300.
Once all of this is complete, you can spin the reels. The spin button is located on the right side of the reels.
The autoplay feature is available by holding down the spin button. Autoplay options will be provided on the screen.
EmotiCoins slots, like all other Microgaming slot games such as Dolphin Quest or even Deuces Wild, are available as mobile slots. This means that you can play the slot game on a smartphone or tablet device and on laptop and desktop devices.
Interactive Features
EmotiCoins is a slot game that does not skip out on fun bonuses to keep players engaged and making real money. This slot game is filled with fun bonuses from features such as wild blasts to the scatter symbol.
Game Symbols
The high-paying symbols of this game are the emoji faces. The low-paying symbols are a set of playing cards from Ace to 10. The emoticons featured in this game include:
The winking face symbol.
The kissy face symbol.
The symbol sticking out its tongue.
The cool dude emoji wearing a pair of sunglasses.
The simple smiling face.
These characterful emojis serve as high paying symbols and provide most of the visual character of the game. The rest of the symbols are a traditional and straightforward set of cards and wild and scatter symbols. The scatter symbol is presented as a plain speech bubble with the word "LOL" written inside. This is in line with the game's theme, as the emoji craze also brought about the use of Internet slang language.
Bonus Features
The bonus features are where this slot game begins to shine and excite. These bonus features include free spins, scatter symbols and sticky wilds.
Wild Blast Feature– This is one of the most exciting bonuses of the game. Up to five wild symbols can land on the screen at any random moment during the game. This guarantees that a winning combination is formed and can significantly boost a player's wins so far. The wild blast feature also appears fairly often, showing every 10 to 10 spins. These wild symbols come in the form of the word "Wild" written in an animated green text.
Scatter symbol free spins– The scatter symbol of this game is a speech bubble that says "LOL". This symbol will leave you laughing out loud as landing three or more of these anywhere on the reel rewards players with 10 free spins as a fantastic offer. The best part about these free spins is that a wild sticker appears on the screen at the first free spin, and for every alternate spin, another one lands. These wild stickers are simply a sticky wild, which means that after 10 free spins, a player is left with five sticky wilds on the screen. This is sure to leave them laughing out loud as they rake in their cash prizes.
What Symbol Triggers EmotiCoins Slot Bonus Free Spins?
Unlike other online casino games, there is no bonus game to offer free spins in this online slot. Instead, the casino provides players with scatter symbols, three of which reward a player with ten free spins.
Paylines and Stakes
The game has 30 fixed paylines, and the betting range is 0.3-300 coins/credits.
EmotiCoins Slot Game Software
EmotiCoins slot is manufactured and powered by Microgaming. Microgaming is a United Kingdom-based game providing company. The company is licensed by the United Kingdom Gambling Commission and is famous for providing high quality and high paying video slot gaming software to operators globally. Microgaming is a pioneer and legend in the gaming industry, particularly online gaming.
Here are a few more slot games provided by Microgaming that you may also enjoy:
What is EmotiCoins RTP?
The slot has a high return to player rate of 96%. This is a bit above average, and it is quite decent for a slots game.
Slot Volatility
EmotiCoins is a medium volatility game, and players will be able to land decent winnings with an average frequency.
Summary
EmotiCoins is a slot game that does not push boundaries or explore anything new. It would be extremely generous to say the slot game is amazing or revolutionary. Microgaming had a lot of room to do new and exciting things in gameplay, design, and graphics. Instead, they chose to stick to the usual and regular game designs, using playing card symbols as low paying symbols and basic emoji designs for the high paying. The game would have benefitted from a bonus game or some extra features to make it livelier and engaging.
Nevertheless, it would be false to call the game boring or unentertaining. Despite its flaws, the game is very engaging and yields many rewards. The free spins scatter alongside its bonus sticky wilds feature is one that many players would appreciate. These are good features of a medium variance game such as this. The wild blast feature also returns a decent reward to players and is enough to keep them interested. And the emoji designs may be simple, but their cheeky mannerisms will undeniably leave a smile on players' faces or even cause them to laugh aloud.
In conclusion, if you are looking for a complex or highly detailed slot game, this is not your slot. But, if you want a fun and straightforward slot game with classic styles and easy-to-follow gameplay, EmotiCoins goes above and beyond.