Boyd Gaming Credits US Assets For Strong Financial Quarter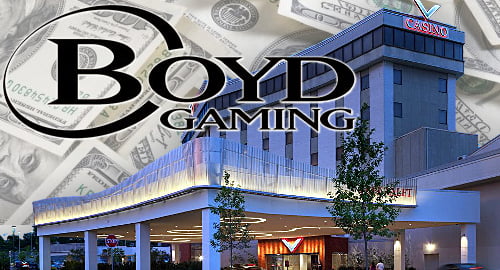 Boyd Gaming's gaming and hospitality company has praised an ever-increasing portfolio of US assets as the business reports a strong financial performance in the last quarter.
The Las Vegas headquarters reaped bonuses from Ameristar Kansas City, Ameristar St Charles, Belterra Resort, Belterra Park and last years acquisition Valley Forge Casino Resort for $212.9 million in revenue and $62.1 million in adjusted EBITDAR collectively during the third quarter of the year.
Total revenue for the quarter jumped 33.8 percent from $819.6 million to $612.2 million, which ultimately helped to hit $2.4 billion for the full year, up 35.8 percent from $1.8 billion.
The group's net income increased significantly to $39.4 million (2018: $11.8 million), while Boyd reported a 44.6 percent increase to $133.3 million (2018: $92.1 million) in the nine months to September 30. Total Adjusted EBITDAR in the third quarter of 2019 was $213.5 million, up 43.4% from $148.8 million.
Keith Smith, president and chief executive officer of Boyd Gaming, explained: "In the third quarter, our diversified nationwide portfolio continued to deliver growth in same-store revenues, Adjusted EBITDAR and margins, led by another outstanding quarter by our Las Vegas locals business.
"Our newly acquired properties produced strong results under our ownership, with adjusted EBITDAR growth of nearly 6 per cent and margin improvement of more than 200 basis points on a combined basis.
"And we substantially expanded our sports-betting partnership with FanDuel Group, opening sportsbooks at four new locations in the Midwest while successfully launching a market-leading mobile betting app in Pennsylvania.
"Our company continues to deliver strong operating results, and we remain focused on executing a disciplined, balanced approach to creating long-term shareholder value."
Delving into the numbers a little further sales from the' Midwest and South ' division of Boyd saw a large increase of 58.5 million to $545.7 m (2018:$344.3 m), led by newly acquired property contributions.
In the fourth consecutive quarter,' Downtown Las Vegas' rose to $60.6 million, up 2.5% from $59.2 million, amid the construction chaos outside the company's premises, with' Las Vegas Locals ' sales rising 2.2% to $213.3 million (2018: $208.8 million).