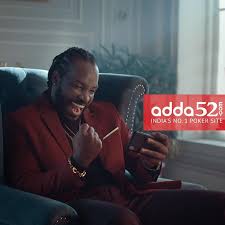 The Adda52.com poker site introduced its second brand initiative in collaboration with brand ambassador Chris Gayle. Chris Gayle performs the part of the voice of the brand in delivering the message of the campaign.
This campaign includes two advertisements created in line with the #BanaoDimaagKoAmeer brand. In both of them, the protagonist is demonstrated as an ordinary poker player who gains glory in life by practicing poker on Adda52.com. The project is running live on OOH and digital platforms.
Naveen Goyal, CEO of Adda52.com said: "Poker has always been considered as an opportunity for winning prizes, but as a market leader in the online poker category, Adda52.com wants to spread awareness about the game and take forward its brand thought #BanaoDimaagKoAmeer. Through the two videos, we want to highlight that poker is not just a game but a value addition to one's life. It is a game of skill that is played with real people on our platform.
"Poker is a game which stimulates the mind, helps one take quick decisions, pushes one to be calm and patient to perform well in the game. These aspects also get reflected in their life; thus, the game is indirectly improving one's life skills. With 2 Million+ registered users, we want to continue to claim the market leader position of being the largest in the country,"